This article will focus on the programs provided in partnership with Tullow Oil, Kenya Commercial Bank (KCB) Foundation, and The Government of Kenya through the LAPPSET Corridor Project, International Labour Organisation (PROSPECTS), Kenya Association of Manufacturers and the County Governments of Turkana and Garissa County.
This article is a guest post submitted by Mariam Jebet at East African Instutute of Welding. If you are also interested in providing a TVET success story, then read how you can contribute yourself.
BACKGROUND
Certain parts of Kenya including but not limited to Turkana, Samburu, Isiolo, Garissa, Meru, Lamu & West Pokot have traditionally been marginalized with limited opportunities for education or skills development for the youth that come from these areas. Devolution in the country has brought much needed development and continues to allow for the expansion of activities and programs that affect the youth especially in giving much needed education and training to open them up to wider opportunities.
The generally scarce resources have further been stretched by the fact that Turkana and Garissa Counties serve as the host of Kakuma and Dadaab Refugee Camps that have high populations of refugees some of whom have gone through the Kenyan education system from primary through to high school and hoping to further their learning. Under a partnership called PROSPECTS, the International Labour Organization (ILO) in Kenya seeks to increase the number of refugees and host community members with quality education and skills training in an effort to enhance their socio-economic inclusion and resilience.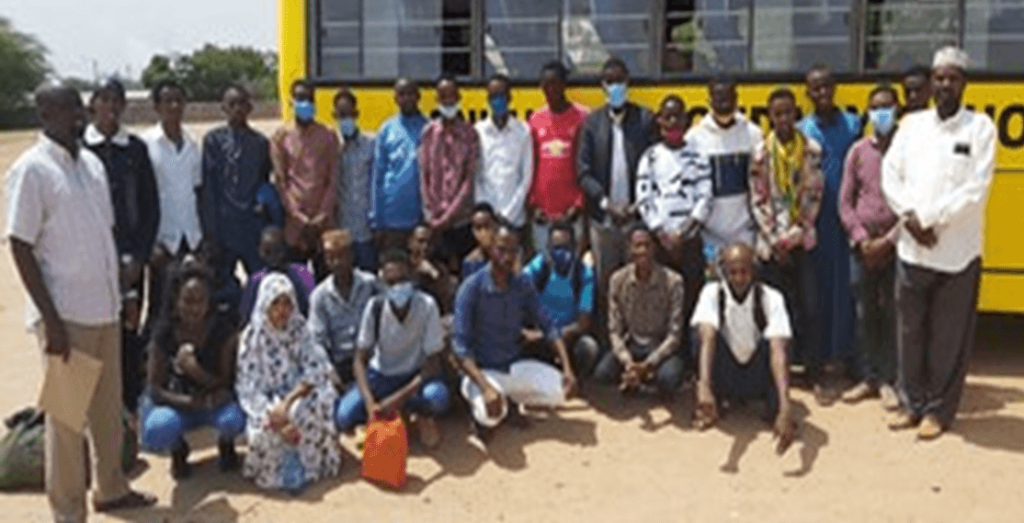 In 2019, Tullow had been carrying out petroleum operations in Turkana County on behalf of the National Government and had been successful in oil discovery in Turkana and aspired to look beyond the exploration phase to development and production along the proposed pipeline route to acquire project requirement and ultimately social license to operate. Committed to creating shared prosperity through among socio-economic programmes of training in specialized welding courses for the benefit of the communities in Turkana, Samburu, Isiolo, Garissa, Meru, Lamu & West Pokot, they partnered with the Institute to provide specialized welding skills training to youth from these counties.
ABOUT THE PROGRAM
The students went through a 6 month training program combining CBET training and a dual learning approach which ensured the students got practical skills as well as apprenticeship from Industry. After the program, some of the trainees were retained in work places while others pursued more job opportunities with their certificates, and through The Kenya Commercial Bank (KCB) Foundation trainees were equipped with startup welding kits to set up workshops in their home counties.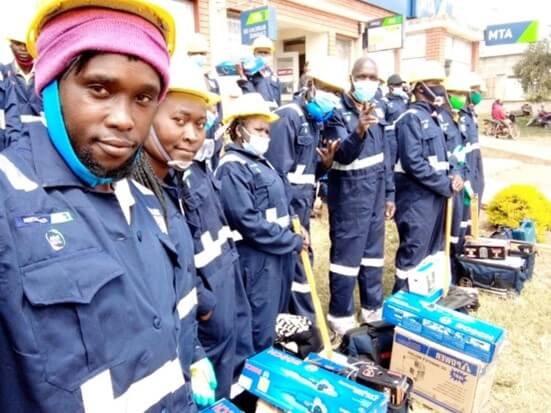 In 2020, The ILO in Kenya collaborated with the East African Institute of Welding (EAIW), the Kenya Association of Manufacturers (KAM) and the county governments of Turkana and Garissa to introduce a six-month welder training programme to empower youth, provide them with employment-relevant skills and address the mismatch between skills and jobs available in the labour market in Turkana and Garissa counties.
Based on learnings from previous training run programs, the importance of practical skills, employability and entrepreneurship skills are key in the design, together with work-based learning to ensure relevance of the skills attained and absorption of graduates into the workplace. The students were taken through a curriculum of an international standard (ISO 9606) and three national qualifications – Technical Vocational Education and Training (TVET), Certification Development and Accreditation Council (CDACC) Level 4 Welding, and the Fabrication Qualification – bringing together practical skills, theory and work-based learning.
ABOUT EA INSTITUTE OF WELDING
The East African Institute of Welding (EAIW) was founded in 2017 to provide world class Technical Vocational Education and Training (TVET) using a Competence Based Education & Training (CBET) curriculum which is defined as 'An approach to vocational education and training in which skills, knowledge and attitudes are specified in order to define, steer and help to achieve competence standards, within a national and international qualifications framework' to equip youth and adults with the skills required for decent work and entrepreneurship while contributing to the global 2030 Agenda for Sustainable Development.
The Institute is located in Kenya on the outskirts of the capital city, Nairobi with registered branches in Uganda and Mozambique. We provide various services including: Specialized welding skills courses – National and Internationally recognized certificates; Quality Control & Quality Assurance Courses – Non Destructive Testing (NDT), American Petroleum Institute courses, American Welding Society Certified Welding Inspector courses; Inspection services and manpower services.
Since inception the Institute has made strategic partnerships with Government, International Organisations, Industry and private companies that have seen the Institute run successful programs in line with the partnership objective.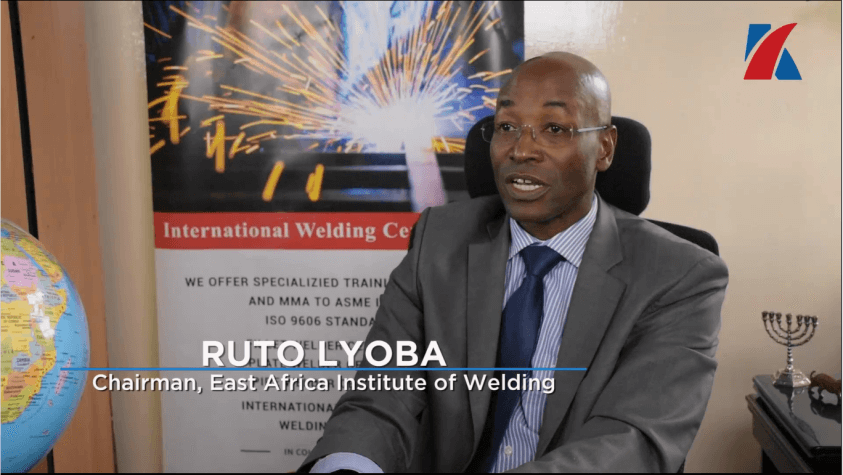 "We are passionate about the youth as they are the future. Unfortunately many are unemployed, and many lack skills that are on demand in Industry. There is a global shortage of Specialized Coded Welders and we figured we do not need to import welders to the region with the rise of infrastructure projects like the Standard Gauge Railway, LAPSSET corridor project and oil pipelines. We sent our trainers to study in Johannesburg and be Certified Coded Welders and eventually Certified trainers of the same."

Ruto Lyoba – Founding Chairman of EA Institute of Welding
Internationally, the Institute is accredited by the South African Institute of Welding (SAIW) headquartered in Johannesburg, South Africa. A member of the International Institute of Welding where initially, two trainers were trained and certified to ASME IX, EN 287 and ISO 9606 Specialized Coded Welders and eventually certified trainers. The International welder program provides a combination of comprehensive theoretical knowledge and high practical skills assessed by tests of increasing difficulty including ISO 9606 qualification tests and theoretical examinations.
The program is presented in three distinct levels which are progressive, fillet, plate and pipe welder. The graduating welder receives International Institute of Welding Diploma and Code Certification to ASME IX and ISO 9606, a first in the region.
Nationally, the Institute is a registered and accredited by the Technical Vocational and Educational Training Authority (TVETA), National Industrial Training Authority (NITA) and The Technical and Vocational Education and Training Curriculum Development, Assessment and Certification Council (TVET CDACC).
COVID IMPACT
In response to the COVID-19 pandemic, and in line with Kenya's Digital Economy Blueprint 2019, which pursues a move towards a digitally enabled society, a blended learning approach was also adopted. Students learned theoretical parts of the programme thanks to a Learning Management System (LMS) on tablets and computers made available to them. The main objective of the programme was to provide market-relevant skills in TVET by using the Competence-Based Education and Training (CBET) curriculum in welding. For this aim, students underwent 180 hours of practical welder training at the institution, covering fillet, plate and pipe welding, coupled with skills in numeracy, communication, digital literacy, entrepreneurship, employability and environmental literacy.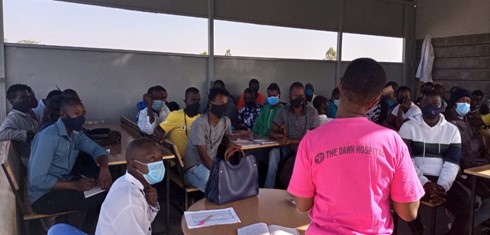 COMPETENCY BASED EDUCATION AND TRAINING (CBET)
Competence Based Education & Training is the modern way of delivering technical skills. The international standard (ISO 9606) however does not include theoretical aspects that would enable graduates to be relevant to the local job market.
Noting that with the addition of Communication, Numeracy, Environmental and Digital skills, the beneficiaries would qualify for TVET – CDACC Level 4 Certification, the curriculum was incorporated into the program to allow for a dual qualification for those that complete the program.
"We therefore embarked on a process of incorporating entrepreneurship and employability skills into the program."

Malcolm Marega, principal of East Africa Institute of Welding
LEARNING MANAGEMENT SYSTEM (LMS)
The incorporation of the Learning Management System (LMS) into the program allows for a blended approach to learning. The benefits are twofold; learners can easily comply with government social distancing standards while achieving their qualification using tablet computers and the additional curriculum can be conveniently accessed allowing for a flexible learning approach. The system was purpose built with a fourfold approach to learning; video, transcripts, notes and chat functions
for forum discussions. The E-learning platform is fi t to monitor and track attendance, completion of courses, submission of assessments or quizzes, time spent on the platform and performance index. Each students' records are also kept digitally on the platform.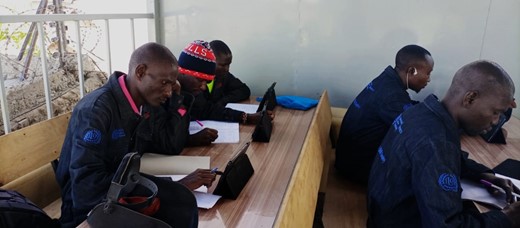 UNDER REPRESENTED ENROLLMENTS
The selection process encouraged the application of women and persons with disabilities for shortlisting to ensure enrolment of persons from these two minority groups among the 70 candidates. The desired blend of 60% Host community and 40% Refugee community with 50% of the beneficiaries coming from the respective counties of Turkana & Garissa was achieved at the end of the process with refugees of Burundi, Congo, South Sudan, Ethiopia and Somalia nationalities.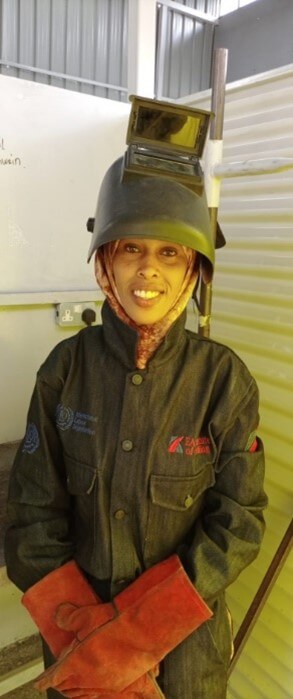 COLLABORATION WITH EMPLOYERS
Kenya Association of Manufacturers (KAM) is a respected business association that unites industrialists and offers a common voice for businesses. Below the CEO Ms Phyllis Wakiaga tells why they chose to be involved.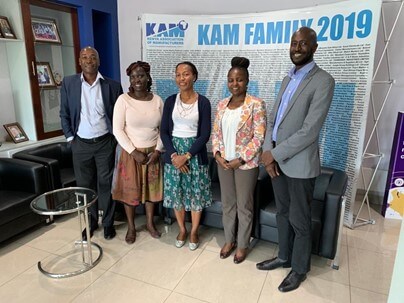 "We are keen on ensuring youth's participation in our country's development. This includes working closely with our membership to provide learning opportunities for TVET graduates, both through internships and apprenticeships or work-based learning. TVET institutions need to consistently up skill their trainers to meet industry's ever-evolving needs, especially now that the 4th Industrial Revolution is taking shape. To meet the skills demand, trainers need to be up to date with industry's skills requirements hence the need for them to be empowered. This includes encouraging trainers to embrace new technologies, modern machinery and innovations, providing opportunities for the trainers to interact regularly with the labour market through internships and industry exchange learning forums as well as curriculum review, based on industry standards."

Ms Phyllis Wakiaga, CEO, Kenya Association of Manufacturers
Work Based Learning (WBL) is an essential part of the program where the students get to apply some of their recently learnt skills and knowledge in a work environment while also getting to learn practical application of their skills in a productive industry environment.
This part of the program has been enhanced by the Training of Trainers program facilitated by AHK (the German Business Association) where nominees from industry invited by the Kenya Association of Manufacturers (KAM) were taken through pedagogy and didactics of learning so they would have the skills they need to transfer learnings to the students when they come in for WBL within industry.
Through the affiliate members of the KAM, the 70 trainees were placed in 15 businesses to apply their new skills in an industrial setting. This Work-Based Learning (WBL) allowed them to deepen their understanding of time management and teamwork around the production of vehicle bodies, water tanks and construction equipment (wheelbarrows, spades, and so on). To prepare trainees for the entrepreneurial world, the one-week Start and Improve Your Business (SIYB) training module was delivered by the ILO, with practical lessons on how to generate business ideas and start businesses.
| | | |
| --- | --- | --- |
| COMPANY NAME | NO OF TRAINEES | LOCATION |
| NIRMAL FABRICATORS | 4 | INDUSTRIAL AREA- ROAD A |
| FRAMAG FABRICATORS | 5 | INDUSTRIAL AREA- NEAR KPC |
| LABH SINGH (LSHS) | 4 | MSA RD |
| PROMO ENGINEERING | 12 | E. BYPASS RUIRU |
| BLESSED FABRICATORS & BOMAQUE S.STEEL | 5 | INDUSTRIAL AREA – NEAR FRAMAG |
| NDOVU CEMENT | 1 | ATHI RIVER |
| GEARBOX | 20 | ENTERPRISE RD |
| PLATEAU MOTORS | 4 | MACHAKOS JUNCTION |
| NEO ENGINEERING | 1 | RAILWAYS CBD |
| BOMAQUE FABRICATORS | 2 | RUAI BYPASS |
| KEL CHEMICALS | 2 | THIKA |
| NYAGA CHEMICALS | 2 | KARIOBANGI |
| PROTO ENERGY | 10 | MURANGA |
Members of the Kenya Association of Manufacturing that took on Trainees for work based learning
The feedback from industry has been very encouraging with remarks on the positive attitude and abilities that the trainees have towards the tasks they are given. As they are learnt on the job it was found that their level of production is higher than that of graduates from traditional technical training programs and continues to improve with their willingness to learn and apply themselves to the tasks at hand knowing that this affects their overall qualification. The level of excitement continues to rise as the trainees are given new challenges by experienced hands producing products that are ready for market.
The whole experience was worthwhile in exposing the students to workplace norms and fifteen of the students were eventually offered graduate trainee or probation contracts. It is easy to see their perspectives on the possibilities that are open to them grow whether it is terms of employment or starting their own enterprise. To prepare trainees for the entrepreneurial world, the one-week Start and Improve Your Business (SIYB) training module was delivered by the ILO, with practical lessons on how to generate business ideas and start businesses.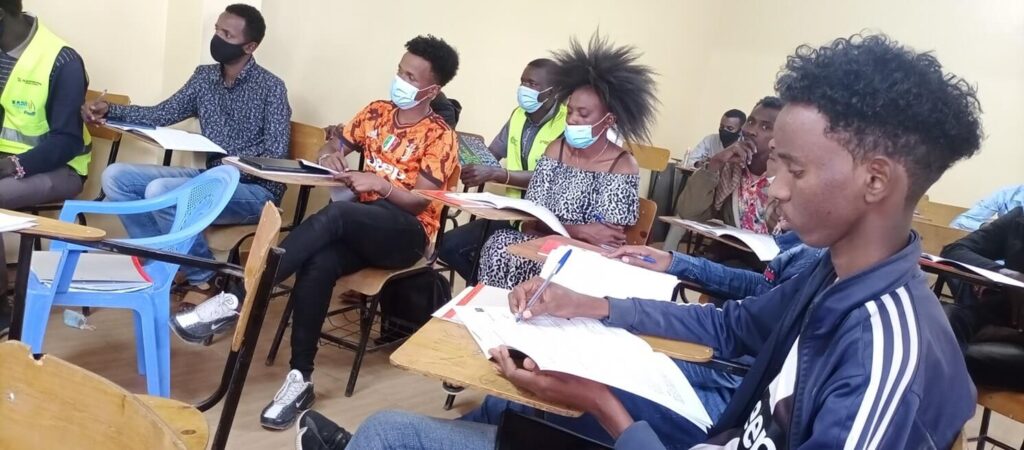 GRADUATION CEREMONY
Kitengela on Tuesday 29 June 2021. Some government officials and directors of institutions attended the event, including the Governor of Garissa County, county executive members for education of Turkana County, representatives of the Kenya National Chamber of Commerce and Industry, the Chairman of Turkana County, a representative of the Kenya Association of Manufacturers, and TVET directors for Turkana and Garissa counties.
In his speech, H. E. Mr Ali Korane, the Governor of Garissa County, applauded the partnership between the county and the ILO, as well as the support provided to young people in order to gain skills that are sought after for the job market in Garissa.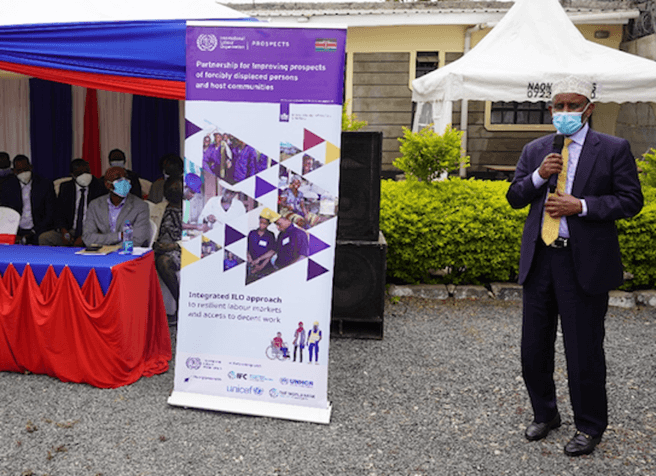 "Congratulations to the graduates, and special thanks to the ILO for proving the importance of partnerships in implementing programmes through the successes achieved. To build on this initiative, my government will participate in providing the necessary resources for the training in the next cohort and even explore the possibility of having programmes to give the necessary equipment for these young people to start their own businesses."

H.E. Ali Korane, Governor of Garissa County
He went on further to urge the programme team to explore the possibilities of providing training at levels 5 and 6, which would further expose the graduates to international markets. He addressed the students:
"Personally, I would like also to recommend that you explore the possibility of conquering more space in certification, by reaching other levels such as 5 and 6 in order to get more opportunities. I am aware that there are many opportunities for welding in some countries abroad. So far, we have received many inquiries from Canada and Qatar. Now that we have skills developed and people certified, we could continue talking to them to explore whether they can recruit the graduates to provide the services they need."

H.E. Ali Korane, Governor of Garissa County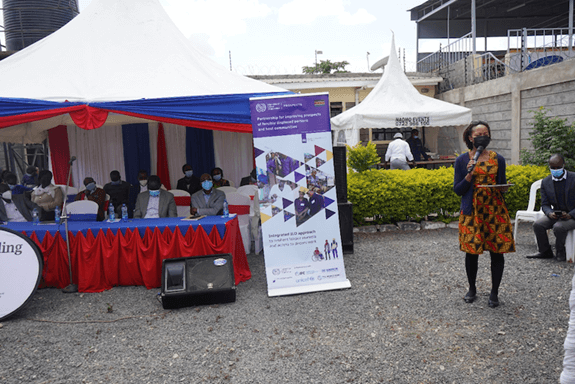 "We congratulate the graduates for attaining this milestone that will open opportunities for you in wage or self-employment; we hope that you will contribute towards more jobs creation as your ventures grow and expand."

Ms Caroline Njuki, Cheif Technical Advisor, ILO
OUTCOME OF PROGRAM
Out of the 68 graduates of Level 4 and Level 3 certifications, 12 were female, and there were two persons with disabilities.
Graduates were awarded four qualifications:
The TVET CDACC certificate for welding (Level 4);
The ISO 9606 certificate of international standards in welding, enabling the holder to work anywhere in the world as an internationally recognized certified welder;
The National Construction Authority certificate allowing the holder to be registered as a contractor in the construction industry;
The Start and Improve Your Business (SIYB) training module, which is part of the ILO entrepreneurship training course.
The courses aimed at equipping the students for self-employment and will certainly help them obtain a wage increase. Most of the candidates expressed their interest in opening welding workshops and in producing everyday materials needed in their communities, including spades, wheelbarrows and stand-alone steel water tanks. By way of example, William Loroo Lowan, who has a disability, plans to use his recently acquired skills to produce walking aids for people with mobility impairments. He is committed to supplying the community in sufficient quantities.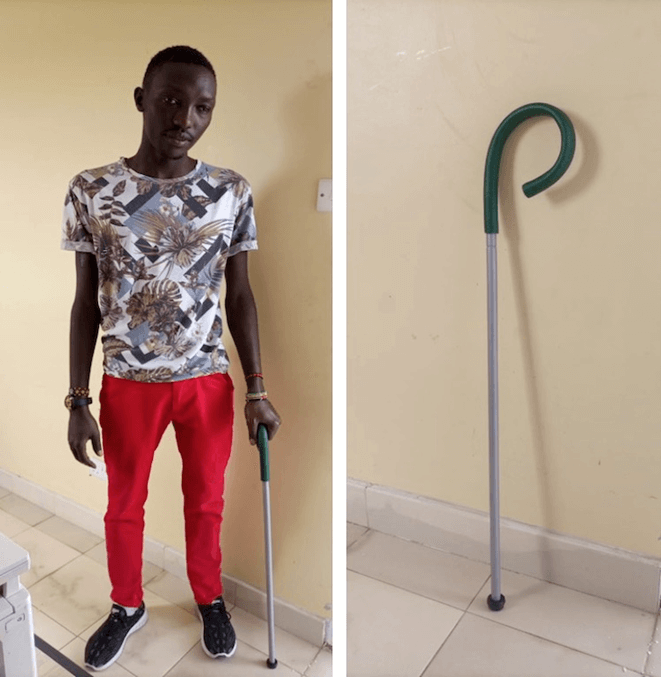 A total of 16 graduates were retained by various companies. Two were hired by PROMA Engineering for employment in steel water tank building. Four were offered paid internships at Ashut Industries and will be offered permanent contracts at the end, provided that the evaluation of their performances is satisfying. Ten other candidates were also offered paid internships at Proto Energy to train in submerged welding and packaging of gases in gas cylinders.
During the graduation ceremony, all speakers underlined the tremendous milestone achieved and encouraged the graduates to take advantage of this knowledge to enhance their livelihoods in their communities and encourage the rest of their peers at home to enroll for future skills training.
Since the graduation ceremony, other member companies have requested for recruitment services of the Institute of quality trained mid level graduate welders. Megh Cushion Industries Ltd one of the country's leading brands for a high-quality matatu, van, & bus seats and various automotive components and accessories & Nairobi Expressway construction project which is keen to hire graduate welders from Technical Institutes as part of Corporate social responsibility together have 70 opportunities the Institute is referring all the graduates.
STUDENTS AT WORK
Below a selection of pictures from students who attended the training program and later found work.
About TVET Journal
This online portal is focusing on TVET news and articles. The content on our website is put together by researchers, professors, and other experts. If you have an interesting TVET story to tell, then we want to hear from you! => Contribute to the TVET Journal.
This article was a guest post submitted by Mariam Jebet at East African Institute of Welding.